It seems that Woody Allen is to Spain what Almodóvar is in the States. Spaniards love the American director's work while they are so critical of their own filmmaker. Suffice it to say that Parallel Mothers (2021) was not chosen to represent Spain at this year's Oscars, even when it's nominated for best director and best film, plus five other categories, at this year's Goya's, the Spanish film awards. Woody Allen, on the other hand continues to be one of Spain's favorite directors, while we know how ambivalent Americans are about him and about his latest work, in particular.
In 2002 Woody Allen was awarded the most prestigious of Spanish cultural awards, The Príncipe of Asturias Prize, given by Prince Felipe himself, who has become the Spanish King since then. More about Woody's acceptance speech later. Also, since 2005, there has been a life-size statue of Mr. Allen in downtown Oviedo, the capital of Asturias, to recognize the American director's relationship with that charming city.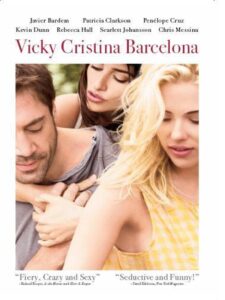 A significant part of Woody Allen's Vicky Cristina Barcelona (2008) takes place in Oviedo that looks absolutely idyllic (through Javier Aguirresarobe's, the cinematographer, lens), as does Barcelona which is one of its protagonists. The other two are young American women; Rebecca Hall is actually British, but plays the American ingenue with relish and Scarlett Johansson, who is the gorgeous, adventurous blonde. Both become entangled with the Spanish Don Juan, a Picasso-like painter played with gusto by Javier Bardem. The plot thickens indeed when María Elena (non-other than Penélope Cruz), the painter's ex-wife appears. From then on, the fiery Spaniard runs away with the film, overshadowing the younger Vicky and Cristina. No wonder that Cruz and Bardem reconnected filming this movie (they had worked together in Bigas Luna's Jamón, Jamón in 1991) and have been married since 2011.
Despite its stereotypes, Vicky Cristina Barcelona is a delight; if not one of Woody Allen's best films, a close contender, particularly, if we compare it to his last film, Rifkin's Festival (2021), which is also filmed in Spain. This time in Donostia (San Sebastián if you don't speak Basque) during one of the city's famous film festivals. Wallace Shawn plays Rifkin, the older husband with a much younger wife (Gina Gershon) who falls for a sexy French director (Louis Garrel). Talking about stereotypes.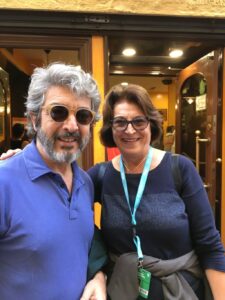 Donostia is gorgeous. I was lucky to attend the festival in 2017 as a reporter for Al Día, Philadelphia's Latino newspaper, and I fell for its charm. How could I not, with its famous beach named La Concha? I could echo Rifkin's repeated comments of "this is a wonderful festival." Full disclosure, I also know what it is to be seduced by the limelight; one of my favorite moments was getting photographed with Ricardo Darín, the Argentinian heartthrob.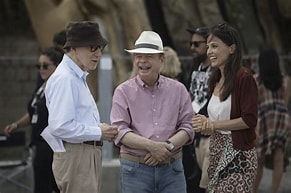 Peter Bradshaw said in his review of Vicky Cristina Barcelona that Vicky was Woody Allen's alter ego. In Rifkins' Festival it is much more obvious. Rifkin repeats almost word by word Woody Allen's comments in his acceptance speech of the Príncipe of Asturias Prize: his condemnation of Hollywood cinema and his praise of the European classics, including Buñuel, who is alluded to in one of the many black and white sequences in this film.
For me, sitting in the darken theater (Rifkin's Festival is currently showing at The Ritz Five in Philadelphia), when the black screen with the characteristic white lettering and the jazzy soundtrack of Woody Allen's film commences, I'm in heaven. I guess there is enough of a Spaniard in me still, even if the fiery Spanish painter in Rifkin's Festival has deteriorated to a chaotic Sergio López with his doll du jour. Well, who could ever compare to Penélope Cruz?
During the #YoTambien (#MeToo) demonstrations, women rallied in Oviedo to take Woody's statue down because of his alleged sexual conduct. As far as I know, it hasn't been removed yet, anymore that the accusations against him have convicted him in the States, despite the court of public opinion. Did we mention Picasso above? Have we forgotten his transgressions with his muses and wives? Are we to judge artists by their personal actions or by their artistic work?