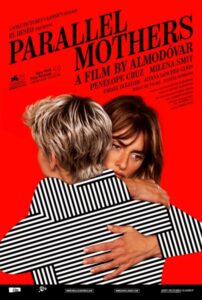 I anticipated seeing Almodóvar's last film, Parallel Mothers (2021), for almost three years since his last film, The Human Voice (2020) with Tilda Swinton notwithstanding. Needless to say, I was at the Ritz Five on the first afternoon of its Philadelphia "premier."
Once you get over the awkward title (wouldn't "All About my Daughter" had been a better choice?), the film is vintage Almodóvar. From the colorful sets in deep reds and greens to the perfect mise-en-scène details such as the Sargadelos dish set on the kitchen shelf and the jamón serrano leg on the counter, without forgetting the soundtrack by Alberto Iglesias, it is a quintessential auteur film. The two mothers cook a typical Spanish dish, in this dream kitchen, not a gazpacho this time, but a tortilla de patata (a potato omelet). And it wouldn't be a film by Almodóvar without some homosexual sex scenes.
Penélope Cruz's performance is more nuanced than ever. She has already won best actress for this role at the Venice International Film Festival, where it premiered, and at the Los Angeles Film Critics Association Awards. The birth scene at the beginning of the film is an obvious wink to Live Flesh (1997) where she gave birth in a bus. Rossy de Palma, another of Almodóvar's favorites, seems to have outgrown her Picasso-like nose. Milena Smit, the other mother, is wonderful; she reminds us of other young starlets who started with this director: Verónica Forqué, Rossy de Palma and Penélope Cruz herself come to mind. Aitana Sánchez-Gijón (Teresa) on the other hand, with a well-known dossier appears in this her first Almodóvar film.
Almodóvar's typical handsome Spanish male actors like Banderas and Bardem are absent in Parallel Mothers. Taking their place is a new kind of heart throve, Israel Elejalde, who brings to bear what is also new with Almodóvar, his political message. Almodóvar was an innovator about the cultural and sexual mores in after-Franco Spain. He was the "enfant terrible" of the "Movida Madrileña" (The Madrid Vibe), not only with his openly gay lifestyle, but with the daring themes of his films, including the condemnation of the Church (Bad Education, 2004). But it seemed that the abuses of Franco's regime were tabu for him in his films, although he was the producer of the documentary The Silence of Others (2018), which deals with the victims killed and buried during Franco's Spain. The words of Teresa in Parallel Mothers: "I am apolitical, I want to please everyone" could have been his.
No more. Even though the critics in Spain said that the film's ending seems contrived, what else can we expect from an Almodóvar melodrama? Spaniards may add that his political condemnation is "too little, too late," particularly since the Law of Historical Truth had been dormant for over a decade until Pedro Sánchez, the Spanish Prime Minister, funded it again.
Maybe what needs changing now is the title of this post; instead of "Almodóvar, Again," it should be "Almodóvar, Finally."