I'm back in urban Philadelphia after a long summer of life in the Brigantine Bubble. You may ask what I mean by this, since there are many kinds of bubbles. First of all, let me tell you about Brigantine itself, since you may not be familiar with this well-kept secret of the Jersey Shore.
The Island, as they locals prefer to call it, was named after the two masts sailing ship used by pirates since the 16th century, because there were so many shipwrecks in the area. Situated northeast of Atlantic City, it's the only beach town that is not a pass-through to another shore destination. In other words, one goes to Brigantine with the definite intention of being there. In part, it was a secret until the construction of the Atlantic City-Brigantine Connector or "the tunnel" in 2001.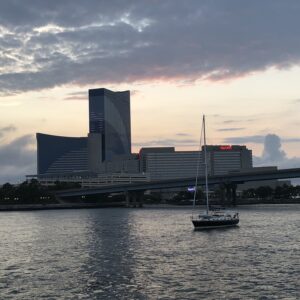 Traffic used to go through the west side of Atlantic City, adding several minutes to the drive to the Marina and its casinos. It's interesting noting that Donald Trump, a competing casino owner at the time, opposed this project with several lawsuits. The "new" Brigantine Bridge of 1972 replaced the original bridge destroyed in 1944 by the Great Atlantic Hurricane.
For whatever it's worth, Brigantine is ranked fourth of the 25 best Jersey Shore towns. It's famous for the lighthouse of 1926 that sits in the center of town because it was too far and too low to function as a true lighthouse. It's also known for the Marine Mammal Stranding Center, the only one in the state, recently surrounded by controversy as we will soon see.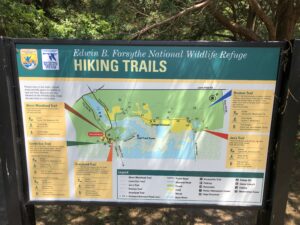 My favorite spot of the island is the Edwin B. Forsythe National Wildlife Refuge, which provides habitat for many birds, including the American bald eagle, the peregrine falcon, and the piping plover. Interestingly enough, the park can't be reached through Brigantine, its access takes place from Route 9 in the mainland. There used to be a railroad that joined it with the shore town, but it disappeared after the 1903 storm.
In addition to its unique geographical location, Brigantine is also an emotional bubble. Aside from its beautiful beaches, peaceful dunes, and ocean breezes, the Island doesn't have a boardwalk, carnival rides, a thousand gift stores, or gourmet restaurants. It has a couple of delicatessens that close at 8:00 PM, one hotel that serves as a time-share, and a famous bakery, Aversa, known for its bread and Italian pastries. There is one supermarket, two Wawas and a Farmers Market every Saturday. It's amazing that just 70 miles from Philadelphia, one can reach such a different environment; it's like being in another world. It takes me exactly one hour from the Ben Franklin Bridge to my Brigantine condo door. I'm a fast driver!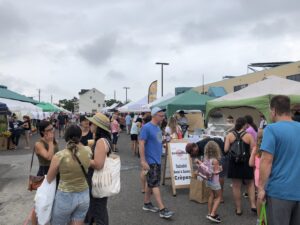 After years of renting and looking at properties at the end of each summer season, I finally purchased my own place in the fall of 2019. Talking about bubbles; it became my family's hiding place during Covid. Although the locals threatened us strangers with egging our cars if we didn't have New Jersey plates, we retreated to Brigantine without a single confrontation.
Now this beach town, like many others, has become a favorite destination and we are in the midst of a real estate bubble. There are no homes left for sale in the island; not on the ocean side where I am nor on the bay side, which has become a paradise for boat lovers. My property has doubled in value in four years. I couldn't afford to buy a condo like the one I have, even if I sold mine first. My financial advisor warns me to wait because these economic bubbles are bound to burst and I could find myself without a summer property.
There was some trouble in paradise this summer in peaceful Brigantine. Several whales stranded ashore and the Marine Center was busier than ever performing autopsies to define the cause of death. The majority of residents opposed the wind turbine project, blaming it for the mammals' deaths. There were meetings, signs across town and on cars against the offshore wind development. Never mind, that the whales were dying, but the wind turbines haven't been built yet.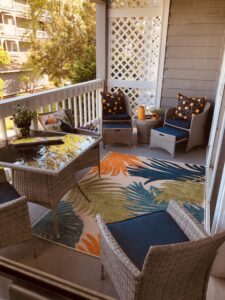 But nothing compares to the Brigantine weather bubble. The urban legend has it that whenever it rains in Philly or in other shore towns, the island is often spared. The worse the forecast, the most obvious the outcome. My family didn't believe this for years. We would laugh among ourselves, without daring to disagree. But this summer that I was there almost three entire months, I was able to confirm it, although Google calls it the Cape May bubble. We didn't have any of the awful rainstorms as the East Coast did. So, now I've become a believer. It rained only at night and my new deck furniture and beautiful rug hardly got wet. Of course, I purchased the outdoor kind just in case.
In a few days, I'm going to Spain to promote my new book and I have started to pay attention to the weather there. I remember that when I went to Málaga last year the buildings were covered with a thick red dust called "Calima." An African desert storm that reaches the Iberian Peninsula. How come I had never heard of this phenomenon before? Now, my family in Madrid tells me to come prepared for "La DANA." I have to go to El País, the Spanish newspaper, to read about this singular weather occurrence. "La DANA" is an acronym for Depresión Aislada en Niveles Altos. When a heavy, cold, rain falls in high altitude areas, even if it's hot outside. It used to be called gota fría (cold drop). It's a phenomenon that only takes place east of the Atlantic. Who knew?
Stay tuned until I return, my blog may be delayed. I will let you know of the new weather events and whatever other surprises take place during my trip.