It was unavoidable, I couldn't help but think about my dolls when I went to see the popular film Barbie last month. As a little girl I didn't own lots of dolls, but I had the best kitchen in the world, with a water tank, cabinets, a fake stove and a complete set of pots and pans, with enough little dishes to playhouse at my heart's content.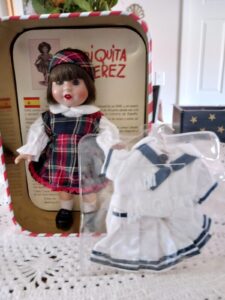 Of course, my dolls didn't look anything like Barbie, they were more like a Madame Alexander type. The most popular doll in Spain at that time was Mariquita Pérez, with entire stores selling clothes and equipment for her, like an American Doll nowadays. I see that now I could buy a Mariquita Pérez and her brother, Juanín, on eBay, but it wouldn't be the same. I had a Gisela, less fancy and probably not as expensive, although she also had several outfits and a little suitcase to keep them all in. (See a complete chapter about her in my book, Una noche en casa and notice the Murphy bed on the cover).
But my favorite doll by far was Manolín, a baby boy with deep-set blue eyes. My mother crocheted an adorable blue ensemble for him to match his eyes. It consisted of short pants with suspenders, a matching jacket, booties and hat. Well, I should have written this in the present tense, because Manolín was the only doll that made it across the Atlantic and I have to confess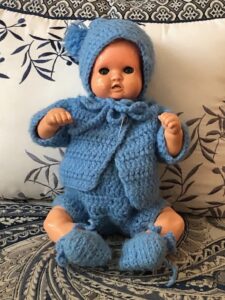 that he is still here in my hall closet. I must have hidden him in the trunk that my mother prepared with bed and table linens for our trip to the United States. He doesn't cry anymore, and his eyes don't close; he's always alert, making sure he never gets left behind.
I don't know why my dolls' kitchen didn't make it when we moved to Madrid. Something to do with becoming such a big girl, starting first grade, and having a smaller home. In fact, I didn't have a bedroom of my own. I slept in a Murphy bed in the family room. I often fell asleep with my mother sewing in her Singer machine or my brother finishing his homework. My dad had an entire office for himself, and he never wrote with us around. To console me for the loss of the kitchen a family friend made a little Murphy bed for Manolín. He slept next to me, with little sheets and blankets just like mine.
My dolls and other toys I left behind caused a funny scene when I went back to Madrid to get married. As soon as I arrived, I noticed that all my things had disappeared. My brother, who still lived in our home, had taken over every room. My books, my Gisela, Manolín's Murphy bed, everything was gone. I checked in the building's storage and only my brother's bike and his old scooter were there. I was very distressed and emotional about this and told my parents and other relatives about it. A few days before the wedding my entire family had heard about my upset and I could hear them laughing, joking how I was there for my wedding, but I was asking about my dolls. I tried to explain to them that I was planning to have a family, that I could have daughters, to no avail. Now I realize how hilarious it must have been to them, but at the time I was heartbroken. No wonder my mother kept repeating that I was getting married too young!
As it turned out, neither one of my two daughters would have liked my dolls; they played with their Barbies, making fun of Manolín if he ever showed his face. When Peter, my late husband, came into the picture, he played his own jokes with my favorite doll too. Once in a while Manolín would appear without pants on top of some of my daughters' dolls – Drowsy or Mrs. Beasley, who had a disturbing laugh to begin with. Other times, poor Manolín would show up dressed in drag with some girl doll outfit on. No wonder poor Manolín ended up in the hall closet, maybe it's because he belongs to the generation that couldn't come out!
P.S. I couldn't help myself. Coincidentally, I stopped by a garage sale and now I have a "Shopping Spree Barbie." It doesn't matter that she's so much younger, she is going to be great company for Manolín. They are both ageless!