Due to an unexpected illness, a neighbor offered me her ticket to a fund raiser, "A Conversation with Judy Woodruff." It was the kind of expensive event that I don't usually attend, but I'm a fan of PBS News Hour and it was held at an iconic venue, so I accepted. I felt like an interloper, even though I was dressed in a trendy pseudo-tuxedo jacket from Anthropologie, and I received several compliments immediately. My gray hair fit right in with many of the attendees. Not Judy's, whose hair and face looked as if she were a fifty-year-old.
I was chatting to a documentarian, also dressed to kill, when on my right appeared a gorgeous man, with silver sideburns, perfect teeth—I'm a teeth fanatic—in an immaculate white shirt, blue blazer, no tie. We quickly exchanged business cards in networking fashion. Edward had a PhD from Yale, an undergraduate from Harvard, and was a musician; perfect indeed. Well, his being a musician was a tad worrisome, since my story with Peter, a classical guitarist, didn't end so well. Also, Edward seemed to be somewhat younger than me.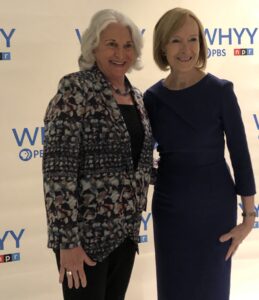 During the photo session with Judy Woodruff, Edward was utterly charming and playful, answering "Not yet" when someone asked if we were together. He waited patiently for me when I went to the ladies' room to perform a reality check on the mirror to see if I was dreaming: teeth almost as perfect as his, hair in place, nice jewelry. Edward walked me home through romantic Washington Square.
Early the next morning on an email, he said what a lovely time he had and how he would like to get to know me better. I couldn't believe my luck, after years of being a not-so-much the merry widow, a flawless suitor appeared. I was leaving on a trip to Spain in a few days, but I didn't want to break the spell. I asked him to accompany me the following day to The Barnes Foundation. Never mind that I had seen the renowned permanent collection a hundred times and I had visited the special exhibit already.
Edward looked even better, and younger, in daylight. I had Googled him, and he was indeed an accomplished pianist, his prestigious degrees checked out and I found a photo of his brother, with the same, exact teeth. So, his teeth were real! I didn't want to be naïve and while we were waiting for the lunch reservation, I brought up the possible age difference. He turned out to be ten years younger than me, not a deal breaker, he felt. He mentioned France's President; if Emmanuel Macron could be twenty-four years younger than his wife, why not ten? It wouldn't be an issue if the man was the older one of the two, right? I was in heaven; he was a feminist to boot! He had read my blog and praised my writing, what more could I ask for?
We talked easily through lunch. He told me how he had been the stay-at-home parent—since his ex-wife had a much higher salary as an investment banker—how he owned three grand pianos, was learning Russian online and rode his bike on good weather days. He continued his flirty, cutesy banter as we enjoyed the exhibition and we made silly jokes like two teenagers on a first date. There was only one little red flag. Before we shared a sweet goodbye peck, when he walked me to my car, a classy Bimmer, I noticed that his car was a modest worn, domestic model. But I mentally made an excuse for him: for some reason he was probably driving his son's car.
In another email from Edward the next day he confessed that he really was twenty years younger. Needless to say, I felt deceived. Why didn't he tell me the truth when we spoke about the age issue? He didn't tell me before because he "wanted us to enjoy our time together," and closed his message with a heart emoji. Talking about teenagers!
Now I've had a chance to reflect on this brief encounter. I know the 20/20 hindsight American expression. There were other red flags I chose to ignore: like he didn't speak to his daughter, despite having taken care of her as a child. He didn't speak to his ex-wife either—perhaps because she had to split all her savings with him. Was he looking for the stereotypical "nurse with a purse"? Was he looking for an older, attractive woman to hook up with? Was he hoping to be taken care of the way he was accustomed to?
And, what about me, am I a cougar? I go to events too, looking for attractive, older men. And I admit that I often take five years off my age, even if I confess sheepishly first chance I get. Perhaps I wasn't really joking when I wrote about searching for a "Splenda Daddy." Did I go along with this charade because I was flattered? Because he made me feel younger? Is this the way men feel when they have some arm candy, a much younger, good-looking woman on their arm? I could have dated Edward for a while to see how it felt. Perhaps I am not as much of a feminist as I'd like to think, and I was really bothered by being older than him. To say nothing  that he was only a few years older than my own daughter. Did I dodge the proverbial bullet or did I miss an opportunity to look at his beautiful teeth every morning at the breakfast table?