If you had a chance to attend the Philadelphia Film Festival, you probably saw some of the provocative French movies highlighted this year such as Brother and Sister (directed by Arnaud Desplechin) with a luminous Marion Cotillard; The Passengers of the Night, directed by Mikhaël Hers, the supposed heir to Éric Rohmer, with a radiant Charlotte Gainsbourg or, my favorite, Forever Young, directed by Valeria Bruni Tedeschi. Set in France during the 1980s, with the AIDS epidemic lurking in the background, a mesmerizing cast of young French actors live and die in a Paris that we don't often see without a single shot of the iconic Eiffel Tower or the typical Seine bridges.
Following my recent trip to Morocco, I loved The Blue Caftan, directed by Maryam Touzani, with Saleh Bakri as Halim, the gay tailor who hides his homosexuality—one of the tabus of Moroccan society—from everyone, including his own wife (Lubna Azabal). Filmed in the medina of Salé, it's full of tender scenes and meaningful closeups that speak lots without words or soundtrack music. Two gorgeous Asian films were pure poetry, grief and drama: the Japanese Love Life, directed by Koji Fukada, and the South Korean, Decision to Leave, by Park Chan-wook.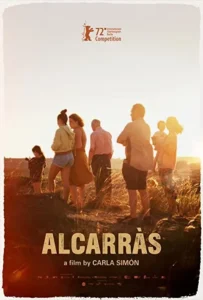 Alcarrás was a meaningful representation of one of the few Spanish films in the festival. Directed by Carla Simón in Catalonian and acted by a non-professional cast, it tells the story of Alcarrás, the town in Lleida, and its people who have made a living from the fertile peach orchards of that region. Their identity and way of life is in danger, not only because industry threatens agriculture, but due to the European commitment to solar energy. Alcarrás has already won top honors at this year's Berlinale and San Sebastián Film Festival and is nominated to represent Spain in the Foreign Film category at the Oscars.
However, the film that captivated me the most and brought me back to the Spain of my youth, one of the recurring themes of this blog, was Corsage; an international production of Austria, Germany, Luxembourg and France, directed by Marie Kreutzer with Vicky Krieps in an amazing performance as the Empress Elisabeth of Austria. To show you how Americanized I've become, I went to the screening, thinking that "corsage" meant the flowers that my daughters wore to proms and graduations or was it to be bridesmaids? In any case, this "corsage" represents the corset that women wore to repress them, not just physically but emotionally as well. The feminist message and subversive, unconventional message is most clear in some of the media posters of the film.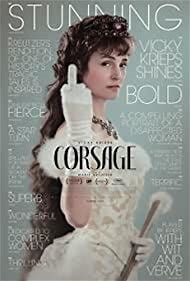 It wasn't until I arrived home that I started to think that I knew the story of Elisabeth of Austria. Where had I met her before?  Who was this Empress who smoked, used drugs, masturbated, had affairs and left her husband, Emperor Franz Joseph I of Austria, played by Florian Teichtmeister in the contemporary 2022 version? It turns out that Elisabeth was Sissi, one of my adolescence idols. I saw the trilogy of Austrian films dubbed in Spanish, and probably censored by the Franco regime. In 1955-1957, Sissi, followed by The Young Empress and Fateful Years of an Empress, was played by Romy Schneider. What a contrast between her blue eyes and round face with the brunette, angular Vicky Krieps! Just casting the protagonist tells the transformation of this story. The only trait in which they resemble each other is in the elaborate hairdo, volumes of auburn hair in huge braids that weigh as much as a crown.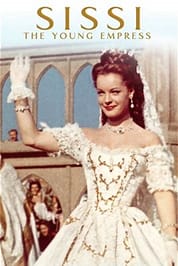 Undoubtedly, the romanticized version I saw in Spain left an impression on me. Spanish girls loved royalty: pomp and ceremony, royal weddings, handsome princes…The reluctant empress had unhappy endings in life—she was assassinated in Lake Geneva during one of her escapades—and in films, particularly in Marie Kreutzer's version. I don't want to reveal it here, since it hasn't come out commercially yet. Perhaps I need to watch The Empress, the new series just released on Netflix to continue my thirst for romance. Stay tuned.