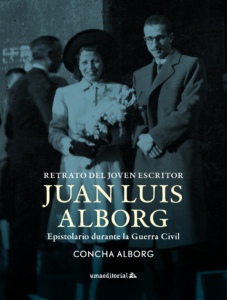 The readers of My Mother, That Stranger, Letters from the Spanish Civil War, already know about how Concha Alborg found the letters between her parents. They are familiar with the surprising personality that her mother showed in these letters compared with the mother she knew growing up in Franco's Spain. In her father's case, he seemed to be already formed as the writer he would become. His complex personality, his descriptive style and his existential ideas foreshadowed the man she knew as a father.
A Portrait of the young Writer, written in Spanish, is a chronological edition of Juan Luis Alborg's letters during the time he was serving in the Republican Front against Franco's forces. This epistolary is primarily the love story of a soldier who is waiting for the Spanish Civil War to end to marry his beloved. Although it is also a testimony of the Spanish historical memory and it serves as a socio-political document.
Concha Alborg, an academic and a writer as her father, develops the thesis that these letters should be considered as the narrative work that Juan Luis Alborg wanted to write, but he did not realize due to his eminent work as a historian of Spanish literature. The literary value of these letters is evident in the young writer since he already had an extensive humanistic education.
José Teruel, specialist on unpublished epistolaries, writes the prologue within a theoretical framework. This book is published by the University of Málaga Press, where all of Juan Luis Alborg's books and documents are housed.
RETRATO DEL JOVEN ESCRITOR JUAN LUIS ALBORG
         EPISTOLARIO DURANTE LA GUERRA CIVIL
CONTENTS / ÍNDICE
PRÓLOGO.   NARRAR UN TIEMPO PERDIDO
Por JOSÉ TERUEL
INTRODUCCIÓN.   EL HOMBRE DETRÁS DE LAS CARTAS
CAPÍTULO I.    EL JOVEN ESCRITOR                                                             
CAPÍTULO II.    LOS PRIMEROS MESES EN EL FRENTE DEL SUR
Julio 1937 – diciembre, 1937
 CAPÍTULO III.    EN LA PROVINCIA DE JAÉN
Enero – junio, 1938
 CAPÍTULO IV.    EN LA PROVINCIA DE VALENCIA
Junio – diciembre, 1938
 CAPÍTULO V.    LOS TRES MESES DE 1939                                                     
 CONCLUSIÓN.   TRAS LAS HUELLAS DEL PADRE                                    
 BIBLIOGRAFÍA.