My Mother, That Stranger. Letters from the Spanish Civil War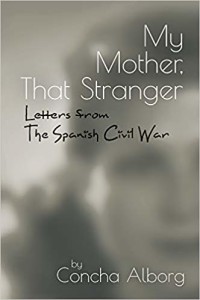 Over eight-hundred letters were written between the author's newly-engaged parents during the time that her father was on the Republican war front fighting against Franco's forces, and her mother awaiting the end of the war. Her father, Professor Juan Luis Alborg, would live to become a well-known literary historian and critic. Her mother's life, on the other hand, was overshadowed by her husband's academic celebrity. The letters were discovered whilst preparing for a symposium marking the centenary of her father's birth, celebrated at the University of Malaga in 2014.
This unique memoir is a microhistory of the Spanish Civil War at an individual level; it illuminates the 'official story' as told in history books at multiple levels. Her mother's personal narrative adds to the understanding of this significant time because she shows how a family lived in the midst of war. A primary relevance is that she lived in Valencia, which in November 1936 become the official capital of the Republican government. Working in a government co-op gave her an insider's view of the ongoing political and military situation. She describes the contrasting burdens between family life in Valencia, and the life of her fiancé soldier on the southern frontlines. The author's mother is exemplary of the women who were formed under the liberal Second Spanish Republic (1931–39) only to be silenced during Franco's repressive dictatorship (1939–75). The long-lost letters made Concha Alborg realize how little she understood her mother's passion to set down complex feelings in the most difficult of circumstances. My Mother, That Stranger will be of interest to Hispanists, historians and literary critics for its uniqueness on the epistolary genre and gender studies, and to the general public as a heartfelt family memoir.
My Mother, That Stranger. Letters from the Spanish Civil War
CONTENTS
EPIGRAPHS
Alejandra Rojas, Emerging from our mothers
Phillip Lopate, Our parents, ourselves
INTRODUCTION, FINDING THE LETTERS
A box in the attic
The oldest of seven
A New Year's Day party
CONCHITA'S LETTERS
An unknown calligraphy
Escaping to the cinema
TWO VISIONS OF THE SPANISH CIVIL WAR
In Valencia
On the front lines            
A PYGMALION STORY
Her readings
Deconstruction of a poem
A book trader
TERMS OF ENDEARMENT
The ideal interlocutor
Such an ugly man
His beloved
LINGUISTIC STYLE
The Valencian language
Popular sayings
Repetitions and imitations
DISCOVERING MY MOTHER
A woman of her times
Food for the body and soul
My mother as a mother
RECOGNIZING MY FATHER
The Don Juan character
A Titan of a man
FAMILY MATTERS
Her siblings
His stepmother
EXEMPLARY LETTERS
August 2, 1937: "When I am Alborg´s wife"
November 19, 1937: "Until there remains a breath of life in me"
December 23, 1938: "Will this separation ever end?"
January 3, 1939: "We are going to be very happy"
March 21, 1939: "I don't know how long this infernal war can last"
LIFE IN SPAIN
Valencia and Madrid: two gardens to stroll by
Letters from 1946 and 1953
LIFE IN THE UNITED STATES
The language barrier
An immigrant story: from Seattle to the Midwest
A short life lived
EPILOGUE, DETERMINING THE TRUTH
The nonagenarian
The book dedications
APPENDIX, SOME OF CONCHITA'S RECIPES
Recipes in the letters and my mother's notebook
Cauliflower Béchamel for unexpected guests
My mother´s Valencian Paella
Stuffed Flank Steak in a letter
"Rollitos;" Christmas Anisette Cookies
From the old World to the New: "Cocido Madrileño" and Tortilla Soup
BIBLIOGRAPHY
INDEX
https://www.amazon.com/My-Mother-That-Stranger
Cover and book's illustrations by Dwayne Booth, Mr Fish: www.clowncrack.com