In preparation for my trips abroad to new places I usually read short stories written by women, history books and watch films about the country, but this last time, I devoured Moroccan cookbooks: Tagines & Couscous by Ghillie Başan and The Food of Morocco by Tess Mallos my two favorites. I already had a beautiful tagine dish and I ventured making a Moroccan dinner for some neighbors. But nothing prepared me for the voluptuousness of its cuisine.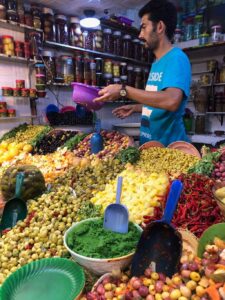 The souks in Rabat, Fes and Marrakesh with their cornucopia of colors and smells made my mouth water. Just the diversity of fruits and olives reminded me so much of the old markets in Spain with similar stands of salt-preserved fish and spices. Once, I looked for the traditional ras-el-hanout, a blend of spices essential to Moroccan cooking, all over Philadelphia to no avail. There, every shop had their special mix with their unique blends and aromas.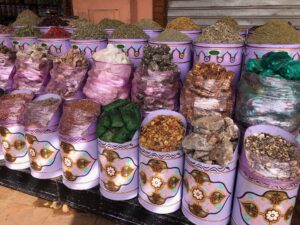 Our eating feast started every morning at breakfast; fresh orange juice waiting for us each morning in every place we stayed. Turns out that in Morocco oranges come in season four times a year, which set the Valencian in me in awe. In the morning, French pastries are de rigueur with honey, amalou—a mixture of argan oil (the one for cooking, not for your hair) and almonds, similar to peanut butter—and jams, including tomato marmalade! It's amazing how, despite its relatively short forty years of colonization, French culture has imbued Moroccan culture, not only in the language but in the cuisine. In some ways their food seems to be a mixture of the best of each culture, whether European or Arabic.
Moroccans, like Spaniards, eat one big meal a day, there after the Dhuhr or the noon prayer. A traditional meal consists of salads, different cooked vegetables served in small portions and eaten with kesra, a light bread. The second course usually is a tagine with meat and vegetables, fruits and nuts. The dessert is served with mint tea, with its own set of traditions. Tourists eat this kind of meal at least twice a day, so after two days we were satiated and started acting like the natives as much as possible.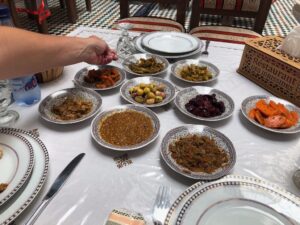 There was only once when, despite my supposed expertise, I ordered the wrong thing and had to send a dish back to the kitchen. We were having dinner on the rooftop terrace of the posh Palais Faraj in Fes and I saw liver and sweetbreads, which I love, in their salad menu. I expected some kind of pᾶté with the liver and breaded patties with the sweetbreads. But, no, both were served by themselves in individual bowls. My daughter alleged that she wasn't hungry and had work to catch up with, and excused herself. I was left admiring a magnificent sunset view of Fes, hearing the evening prayers in the distance, waiting for some simple couscous.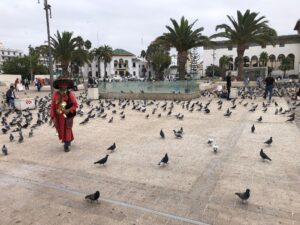 My favorite dish is the pastille or chicken pie. Traditionally it's made with pigeon, but even Moroccans cheat. I admired the pigeons in the Place Mohammed V in Casablanca and I didn't want to see them on my plate, even though the cooking ones are squabs bred specially for eating. The pastille is a mixture of savory and sweet flavors made with layers of filo pastry with stuffing of chicken or just vegetables and olives inside—picture a version of the empanada—the top layer is scored with cinnamon and powder sugar. I found out too late that there is also a small version of the pastille served as dessert, next trip.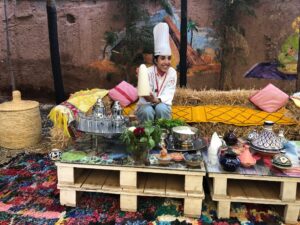 We loved a cooking class in a farm outside Marrakesh. Instead of Chef Tarik of the brochure, our teacher was Fatima, a young feminist and one of the first advocates of the farm to table movement in her country.  We started with a tour of her garden, followed by a traditional mint tea ceremony; we prepared four basic marinades, three kinds of tagines, the ubiquitous salads with Berber bread and caramelized fruit for dessert. The most unbelievable part was that when we arrived to our riad we already had an email from Fatima with all the recipes, talking about a modern woman!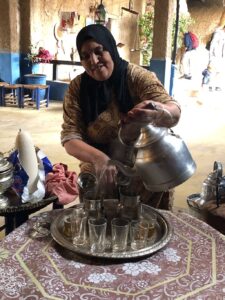 On our last day in Morocco, we visited the High Atlas Mountains and again we were feasted with mint tea, this time in the home of a Berber family. By then, we were sad to be leaving our kind hosts, our guide and, most of all, all the delicious food. Never mind, a surprise dinner at the famous Rick's Café in Casablanca turned our frown upside down. See the photograph of our personal menu.