Planning a trip back to Spain is always an exciting time for me, but things have changed. Last year I had to postpone a much-anticipated visit because of Covid; it was going to be my twin granddaughters' high-school graduation gift. This year Covid is still raising its ugly head, although the numbers are encouraging, but the war in Ukraine looms large in my mind. It's impossible to ignore the awful news and focus on the many details that used to give me so much pleasure: what gifts to buy, what clothes to wear, where to stay, where to go…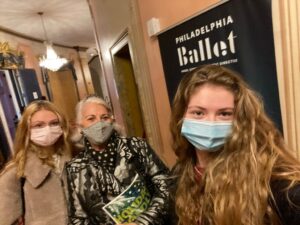 Nevertheless, the twins are very excited this year, it's going to be their first trip to Spain. They have spent their first year of college, at Smith in Massachusetts and at Occidental in Los Angeles respectively. Their Spanish is even better than last year's; they can use the past subjective tense, they always text me in Spanish, and we plan to switch from English to Spanish as soon as we arrive to Madrid Barajas Adolfo Suárez Airport as I used to do with my own daughters when they were the same age.
I have booked the flights, thankful that American has direct ones to Madrid from Philadelphia again. I have reserved an Airbnb downtown in Barrio de las Letras to be near museums and tourist attractions. We don't want to be in the suburbs with family, dealing with the dreadful traffic. I've purchased tickets on the AVE, the fast train to Valencia, where I was born. The twins are not sure they want to pose for a photograph wearing the regional dress, but I have my fingers crossed.
Each time I go, it's more difficult to buy gifts made in the USA. Needless to say, most everything is made in China and so many of the popular American brands, Gap, Banana Republic, Ralph Lauren, can be found all over Europe now. Then, I discover that Lucky Brand, one of my favorites, doesn't have a store in Spain yet and I get some trendy t-shirts for the youngest cousins; never mind that they are made in Bangladesh.
But my mind wonders about what Spain is doing for the Ukrainian refugees and I find out in El País that there are some 112,000 Ukrainian nationals in the country, living mostly in Madrid and the Mediterranean region. Since the start of the war, over 12,000 refugees have arrived and of those 67% are women and one third are children. According to the European Union, Spain is supposed to accept one million refugees. How is that possible? a headline in El Confidencial asks. Keep in mind that Spain is roughly the size of Texas and it has 47 million inhabitants, along with one of the highest unemployment rates in Europe. How, indeed?
It amazes me how many Ukrainians speak English when I watch American news. If you watch RTVE (a Spanish channel), it turns out that they also speak Spanish. Immigration centers have stepped up to process the arriving refugees, helping them with their documentation. Since Spain is a Socialist country, the refugees have the right to schooling, health care and psychological help. Hungary and Poland have provided free flights to Spain. Ondacero (another Spanish channel) follows a family of eight who arrived with one suitcase, one travel bag and five backpacks. All they want is "a place to live and a job." It helps that most of the women refugees have college degrees, many are teachers, economists and engineers. The Los Angeles Times has a long article on Guissona, "Pequeña Ucrania" (Little Ukraine) a Catalonian town, where one in seven inhabitants have Ukrainian roots and they have welcomed the refugees with open arms.
Now, if I can keep away from the news on the war, what I meant to do was to give my readers a heads up. First, I have to look the word for heads up in Spanish: "aviso." Maybe switching to Spanish won't be as easy as it used to be. Anyway, I won't be posting until I get back in mid-June. No worries, I'll make it up to you, this trip should be great fodder for my blog.