One of my favorite reads this summer has been A Tower in Tuscany. Or a Home for my Writers and Other Animals by Beatrice Monti Della Corte (Rizzoli 2021). It's a gorgeous picture book that begins with these provocative words: "We know that love affairs—apart from pleasure, a swiftly beating heart, and occasional moments of pure exaltation—can also give us anxiety, depression, sometimes even rage. I have received all that from my house as well…" It reminded me of a writers retreat in Tuscany when I decided to decorate my new place in Tuscan colors: earth tones of warm reds and olive greens… But this is an epilogue of my story, let's start at the beginning.
I was born in my parents' bedroom at our home in Valencia. One of my first remembrances remains its long hallway from the foyer to the back terrace that faced the Botanical Gardens. I liked to slide on my slippers, pretending I was roll skating, and sit on the cool terracotta tiles watching the tall pines sway in the breeze. No wonder that my mother didn't want to move to Madrid. She finally acquiesced when my father agreed to purchase a flat next to The Retiro Park, although at the time it felt like it was in the outskirts of the city. My mother would love that the park, with its dreamy Glass Palace, has just become a World Heritage Site. She was wise before her time!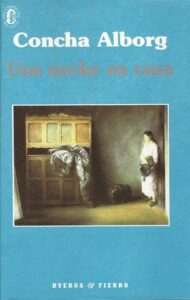 I loved that home, despite the fact that I slept on a Murphy bed in the family room, where I often fell asleep while she was still sewing on the noisy Singer. The cover of my first short story collection, Una noche en casa (A Night at Home), is illustrated with a painting by Cristóbal Toral with a young woman standing next to a folded Murphy bed sprouting the bedsheets.
When my family moved to this country, we lived in faculty housing at the University of Washington, where my father taught. The place came functionally furnished, but I was glad to finally have my own bedroom. The years of Marine Corps life during my first marriage were also lived in furnished places; from Virginia, to Florida, to North Carolina, to California and back to Indiana, where I had attended college and met my husband, I can't really call any of these places, home. We bought our first house when our oldest daughter was three years old and her father left the Marine Corps, although corporate life was similar to the military, only in civilian clothes. By the time we moved to the Delaware Valley, we had been married thirteen years and had move eleven times!
My first real American home was the one Peter, my second husband, and I bought in Narberth, Pennsylvania. A small, English cottage-style stone house with a cozy garden and a separate garage that became his music studio. I loved that house with its casement bay windows and dormer bedrooms, never mind that I moved in with two teenage daughters and it only had one bath. As they left the nest, it wasn't an empty nest as much as it was "chez nous."
But, having grown up in a city like Madrid, I missed the vibrancy of urban life and found a dream home in Philadelphia. An I.M. Pei townhouse in a stately courtyard with lots of space for a musician and a writer to work without getting in each other's way. Peter's unfortunate early death turned our home into a lonesome "casa Concha." I was happy there, though, but no longer felt at home—such precise expression in English.
Retirement brought downsizing and the Tuscan palette to a high-rise condo in the same area of the city, where a strange thing happened from the very first day there. I could hear the neighbors coming in out, I could smell food cooking the minute the elevator doors opened, I could hear the traffic in the distance… best of all, I could step out and be in lovely Washington Square. Not The Retiro Park, but very close and with similar evergreen aroma, and I realized that I felt as if I had moved back to my home in Madrid!
Now I'm also the proud owner of a place at the Jersey Shore, which is the closest I can be to Spain. Just the big ocean separates us, I can hear its waves from my terrace. The dunes rise higher than the tides and protect us from the storms; they are covered with sea grasses, bogs and all kinds of birds. I wake up hearing the noisy gulls, the busy sparrows and the copycat mockingbirds. A bright magenta crape myrtle is blooming right outside the window where I write and I am definitely at home!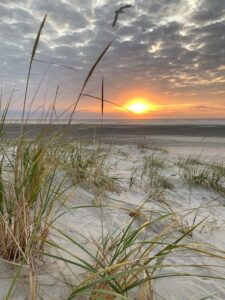 This post is a good moment to introduce my new byline—see it above with the blog title—created by Dwayne Booth, one of my sons-in-law and the illustrator of my last three books.