I was amazed when purchasing a new car nowadays that it reminded me of buying a car in Franco's Spain. Back then there were long waiting times and people were delayed until cars arrived from the government-endorsed Seat factory and we could finally own a car.
Last month I found myself waiting for my 2023 Mazda 3 sight unseen. There are no longer color brochures with bright photographs to choose your model from. Everything is online. If you are lucky, there is a used car to test drive or a similar new model to try it out. I wanted a hatchback and there were none on the lot. I had to go to Turnersville, NJ, to see a hatchback that I couldn't test drive because it was a manual and I wanted an automatic.
After making a deposit, I was given a VIN number of the car I wanted and, like an Amazon package, I kept track of the transaction. They assured me that my car would arrive at the Wilmington, DE, docks at the end of June. I waited until I received a message saying "your car has arrived, it's on the truck and it will be at our Maple Shade, NJ, dealership tomorrow."
I love it; it's sleek, sporty, elegant in a bluish charcoal shade, with red leather interior, a moon roof (identical to a sun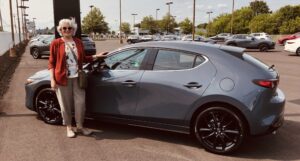 roof, but with a new name). It has every gadget I never dreamed of: back-up guidelines in three colors, a screen to match my phone with contact names and numbers, a GPS information system and much more. Anything that it's on my phone appears on the screen whether I want it or not. If I drive over the lanes on the road, it buzzes. If a car gets too close, it beeps. The radio stations I listen to are called favorites, and we have just begun. With all these gadgets I missed the low fuel icon and almost run out of gas. I'm afraid to learn everything this Mazda can do for fear I'll go on tilt in the middle of the road.
In Spain, my family had to wait as well. Finally, we owned a car just a few months before we came to the United States, a Seat 600, with its motor in the back and a little well in front for packages.
The problem was that my father hadn't passed his driving test and the car was parked several weeks in front of our building in Plaza del Niño Jesús waiting for the renowned scholar to get a driver's license.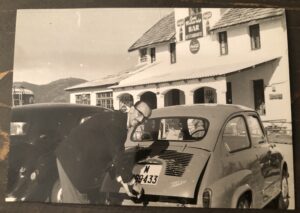 My brother and my father would go down to the car every day and turn it on, so the battery wouldn't run out. They would try all the gadgets too: the right and left turn signals, the claxon and the heater. I don't remember if it had a radio. I know the windows in the back didn't open.
Our only trip on the long-awaited car was to Valencia to say goodbye to our relatives. I rode with my mother in the back seat, because my brother announced he became car-sick if he didn't ride in front. Unfortunately, we had the heat on in the middle of August because he also knew that it was better for the car's "rodaje," (the break-in period; there isn't an English translation in the dictionary), and all this with the windows closed. AC was out of the question. How did my brother know so much about cars, I don't know to this day.
We had to sell our Seat 600 with just a few miles, before the "rodaje" was even finished. Another illustrious Spaniard bought it from us, Antonio Mingote, the cartoonist from ABC newspaper. We left for New York on September 2, 1961, and I'm still here with my new car reminiscing about that old one, which is just as puzzling!
P.S. Please let me know if you didn't receive my last post, "The Latest Book," it seems that there is a glitch with my site. BTW, this isn't a joke.